What are Stage 1 Turbochargers?
Modified impellers provide the main source of a Stage 1 Turbochargers performance increase over standard turbos. Modified impellers are çomputer-designed and CNC-machined from solid aluminium billet rods.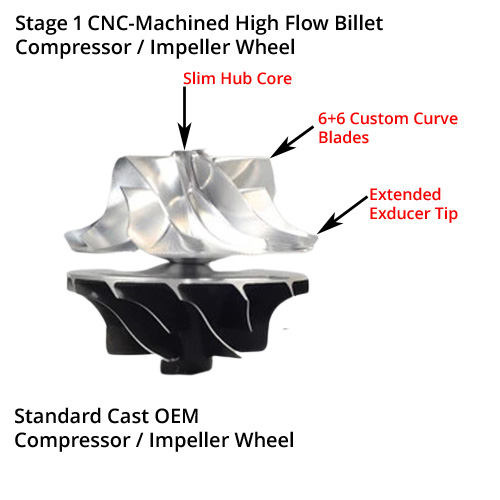 A billet wheel is much stronger than a regular cast wheel as there is no chance of minute casting faults in the wheel.
And being lighter, the compressor will spool-up quicker and provide a smoother spool-up. This will deliver power faster than a standard cast impeller.
Stage 1 Turbos have compressors that are designed with slim hubs and extended base tips. The result is less friction with air and more air flow capacity. Typical impellers of this type deliver around 15% extra air flow.
Extra compressed air entering the aspiration system, means more power output from the engine.
Replacing a standard turbo with a Stage One Upgrade
Adding larger turbos designed for other or generic applications, create problems with the ECU.
Fault codes will be thrown and going into 'limp mode' to protect the engine are common occurrences.
It usually also means that oil pipes, manifolds, exhaust flanges and ECU need to be modified(remapped) or replaced.
The benefit of a Stage 1 upgrades is a swap-out of a standard turbo with no modification. They are a bolt-on upgrade.
You will then benefit from extra performance, without the extra cost of modifying intakes, exhausts and engine management tuning.
However, we recommend that to make the best of the Stage 1 turbo, some mods are advised.
An ECU remap and a 3″ exhaust will give dramatic improvements in power.
We have a great range of Stage 1 Turbochargers. They are assembled, balanced in a Cimat High Speed Balancer, and Flow-tested on a Cimat Flow Bench in Australia.
You can see our full range of Stage 1 Turbos here.
Or have a look below for a more specific, popular models:
4JJ1 Turbo Upgrade.
Garrett Turbo Upgrade.
RD28 Turbo Upgrade.
Hilux Turbo Upgrade.
Toyota Prado Turbo Upgrade.
Nissan Navara D40 Turbo Upgrade.
Ranger / BT-50 Turbo Upgrade.
Or if you have other queries on our range of Stage 1 Turbochargers, please contact our sales support on: 0490 059 316.