Identify CT26 Turbochargers for Toyota Land Cruiser: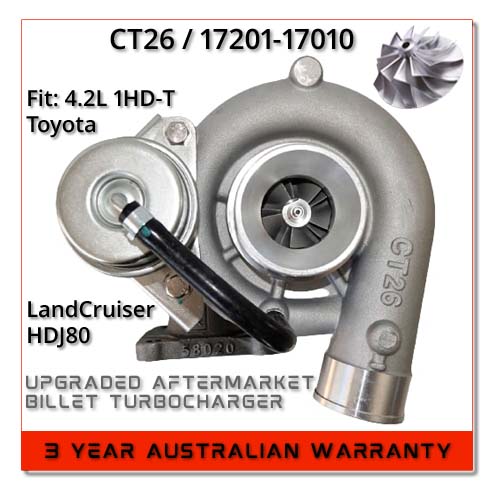 In the Australian market, the turbocharged Diesel 4.2L Toyota Land Cruiser came with 3 different motors.
These 3 motors were coupled to 3 different turbochargers, that were not interchangeable between models.
Known for rugged reliability, these 4WD Toyota Land Cruiser models are still popular today, despite their age.
The models in Australia and their respective engine, output and Manufacture Years (MY), were as follows:
HDJ80R: MY: 01/1990 – 12/1994.
Motor: 1HD-T.
Output: 164HP (122 kW).
HDJ80R: MY: 01/1995 – 12/1997.
Motor: 1HD-FT.
Output: 168HP (125 kW).
HDJ100R: MY: 08/2000 – 07/2007.
Motor: 1HD-FTE.
Output: 167HP (125 kW).
Intercooled version: (HDJ100 station wagons): 202HP (151 kW).
With 3 different motors across the 4.2L diesel Land Cruisers, and 3 different CT26 Turbos, it's important you select the correct Toyota CT26 turbo for correct fitment.
Most turbocharger part numbers are usually found on a plate or tag located on the compressor (aluminum) side of the turbo.
The Toyota CT26 Turbo for Land Cruisers do not have this OEM (Original End Manufacturer) number located here.
There is usually the casting identifier (CT26 only) visible as a casting in the aluminum of the compressor shell.
The CT26 compressor shell is used on a number of different turbo configurations, so it is not accurate to use CT26 to determine the correct unit for your vehicle.
Matching CT26 Turbos to your Land Cruiser:
In general if you have a:
Toyota Land Cruiser HDJ80 with the 4.2L 1HD-T motor the correct CT26 Turbo can be identified here.
Please check out the pictures in the listings to make an ID for CT26 17201-17010 Standard & BILLET UPGRADE Turbos.
Toyota Land Cruiser HDJ80 with the 4.2L 1HD-FT motor the correct CT26 Turbocharger can be identified here:
CT26 17201-17030
Toyota Land Cruiser HDJ100 with the 4.2L 1HD-FTE motor the correct CT26 Turbochargers can be identified here:
Standard & BILLET UPGRADE Turbos CT26 17201-17040.
What if I can't ID from the above information?
The above information can be useful to identify correct turbochargers for your vehicle.
But in rare cases the vehicle may have been fitted with a non factory turbocharger.
In these cases, you can email a few clear photographs of your turbo to us for a complete ID.
However, the VIN number or chassis number can be used to identify correct turbochargers if the vehicle has a 100% factory standard CT26 turbo installation.
If you have any other query on matching turbo parts for your vehicle, please feel free to contact our sales support on: 0490 059 316.