Why does the Left Hand Bank Turbo Fail on the 200 Series LandCruiser?
The 200 Series Toyota Land Cruiser has a 4.5L 1VD-FTV engine fitted with a Left (LHS) and Right (RHS) bank Turbo, in a twin-turbo set up.
OEM turbos fitted at factory are originally made by IHI, with v-spec designation VB22 / VB36 (right bank) and VB23 / VB37 (left bank).
Each unit is not identical in housing structure, due to the unique fitment position of each unit, so they are not inter-changeable between the driver and passenger side turbo banks.
The Passenger (left bank from seated position) side Turbocharger, is more likely to fail earlier than the Driver side (right bank from seated position) Turbocharger.
Why does this happen?
There are 2 reasons:
1) Due to its unique intake position, the RHS (VB23 / VB37) turbocharger is more likely to suffer Foreign Object Damage (FOD).
What can you do to prevent this?
Change the air filter on a regular basis, especially if you operate the vehicle in a dusty environment such as gravel and dirt roads.
2) Due to its position in the exhaust system, the RHS turbocharger has a higher load of carbonized gases from the EGR (Exhaust Gas Reticulation) system.
The EGR system takes exhaust from the diesel's manifold and adds it back to the combustion chamber.
The EGR's function is to reduce emissions and reduce the temperature in the combustion chamber.
But in the process, sooty gasses are passed back through the system (before it passes out through the particulate filter), affecting the RHS turbo more than the LHS.
Unfortunately there isn't an easy solution to this issue.
However, if you have Turbocharger Failure in Toyota V8 Land Cruiser 200 Series vehicle, we have a replacement solution that will not break the bank.
Failed Toyota Land Cruiser 200 Series V8 Turbo Replacement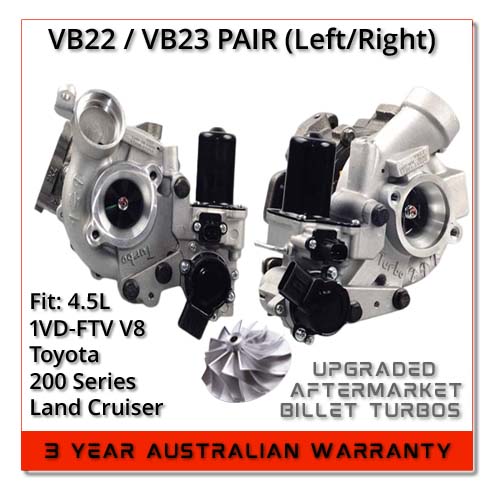 We supply very affordable, quality aftermarket Turbochargers to fit the 200 Series V8 Land Cruiser.
They are covered with our exclusive 24 Month Warranty and come with installation gaskets for free.
And are supplied complete with factory flow-tested actuator / stepper motors.
Our pricing can save you thousands on replacement over the original OEM IHI turbos fitted at Toyota factory.
If you currently have a Land Cruiser 200 Series Diesel V8 IHI Turbo that needs replacing, we supply very cost-effective suitable after market replacements for both left and right turbos.
You can find our best price, Direct Replacement Land Cruiser 200 Series Diesel V8 IHI Turbochargers HERE.
AND, if you do a lot of towing, or would like some extra power for overtaking on the open road, we highly recommend our High-Flow Billet Upgrade Turbocharger Pair (left & right), sold at a significant discount to single unit prices!
(We have actually made it cheaper for you to buy the Upgrade BILLET pair, than 2 single L & R standard units!)
If you have any other query on matching turbo parts for your vehicle, please feel free to contact our sales support on: 0490 059 316.